Mission
The Readability Consortium's core mission is enhanced digital readability for all.

We pursue this mission through research and engineering, empowering designers and readers alike to better navigate our information-intensive digital future.
Core values
Readability for All
The Readability Consortium seeks to enhance digital information access for everyone. We see reading ability as a fundamental to opportunity, and readability as a path to provide greater equity. Our goal of information equity is both global, and individual. The UN has describes COVID-19 as reversing 20 years of education progress. We have hope our work will help reclaim that lost ground, one individual at a time.
A Community for Reproducible Science
The Readability Consortium will facilitate transparent, reproducible science in a growing readability research community. We lead through actively contributing to domain knowledge, underwriting and openly releasing necessary tools, and;
Open-Source Tools and Big Data for Web 3.0
The Readability Consortium's vision requires open-source research tools, the largest open dataset of digital reading behavior ever assembled, and open standards for readability on digital devices. We are aligned with the emerging Web 3.0 philosophies, and the coming semantic web. We believe such emerging technologies are integral to our vision of allowing individuals to experience their best information format across every reading surface.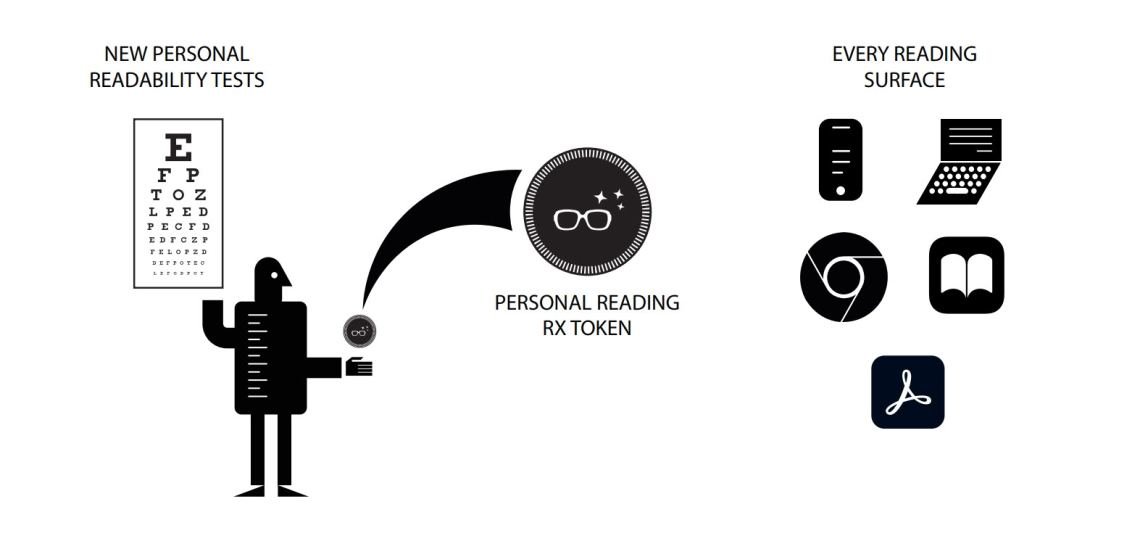 Topics
Guided by our Director and Full Member Board, The Readability Consortium's Research Team is actively pursuing the following topics:
Information Design for the Individual
The Readability Consortium is founded on research showing that readability is individual, requires tools for readers to determine their best reading formats, and can provide individuals dramatic reading performance improvements without training. Our Research Team is developing the scientific underpinnings of portable information 'prescriptions' maximizing individual reading potential across every digital surface.
Psychophysics of Variable Typography
The Readability Consortium is investing in the basic science and applied potential of Variable Typography. Our Research Team's translational work is looking to fonts such as Google's Roboto Flex to tease apart the parameters of a font that help readers. The work applies modern vision science approaches to quantifying the impact of traditional typographic recommendations.
Readability in Education
The Readability Consortium believes our work has significant application in education, where a boost to speed and comprehension may shift the trajectory of student success. Our present efforts focus on bringing our methods to K-12 students. In collaboration with the Virtual Readability Laboratory and other partners, we aim to extend this work to higher education, professional education, older adult education, and beyond.
Readability across Language and Culture
The Readability Consortium's mission is global. We are engaged in early work validating our methods and findings across cultures, and will soon extend this work beyond English, and beyond alphabets, to symbolic writing systems such as Mandarin Chinese. We will explicitly consider domestic populations engaging in a second language. Readability for all is a big commitment, and the world is a big place, so we are looking for partners with aligning vision that will extend our reach.
Learn More
The Consortium works toward our mission from our home at The University of Central Florida Research Foundation, guided by a board of industry and nonprofit members.
We are actively engaging with new potential members and collaborators, and are interested in conversations with aligned stakeholders actively working to redefine the future of readability interface, e.g., document design, consumer electronics, healthcare, cybersecurity, finance, mixed reality, and beyond…
Together we will redefine readability for every individual.